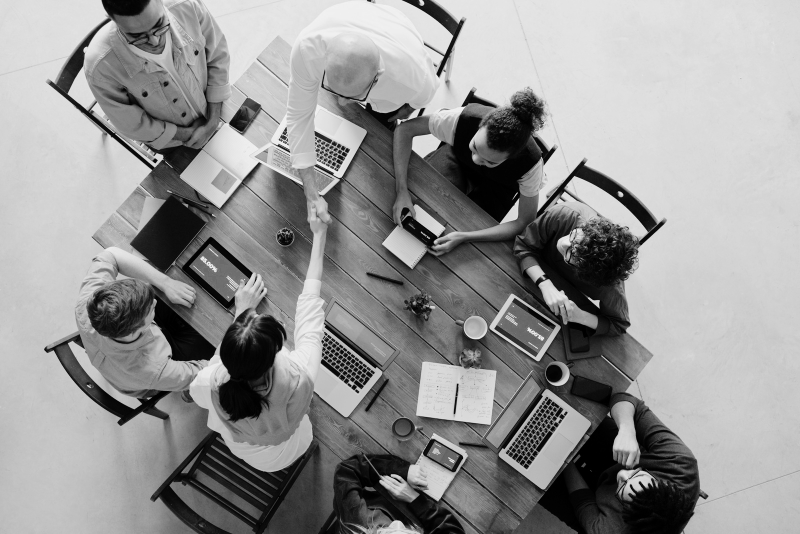 Written by Jason Edge, Co-Founder and CTO at ThoughtForma
Low-code/no-code (LCNC) platforms are emerging as a hot trend in startups, with recent analysis signaling a 5-fold increase in investment from VCs in each of the last four years.
Our audacious goal at Nobody Studios to create 100 new companies in 5 years makes it imperative to iterate products and services at a colossal rate. Many of these companies are likely to be highly (and some totally) dependent on technology. 
Nobody Studios quickly identified the need for some 'accelerator' building blocks essential to achieving its mission, and an LCNC capability was chief among these. Its recent acquisition of UK-based no-code startup ThoughtForma represents a multi-dimensional advance on its goals. 
ThoughtForma is already helping the studio develop and power new companies, and this is set to expand rapidly over the coming months. In addition, ThoughtForma is itself one of those "100" and is on a trajectory to evolve as a commercial offering in its own right.
LCNC is about removing the primary barriers to entry (cost, know-how, access to services, and the time required to develop tech-based products and services) and handing direct access and command of technology to a greater number of people. The benefits are clear:
agility

–

speedy

time-to-market and

responsiveness

to customer needs and fast-changing circumstances

cost-savings

–

cutting out

a whole host of actors related to 3rd-party software development

tailor-made

– whereby the outcome is

perfectly matched

to business needs by avoiding misinterpretations as requirements are passed down the chain of those actors

control

– ensuring

Intellectual Property

(

IP)

stays protected.
Often the narrative surrounding LCNC focuses on minimizing or even eliminating the need for technical and other specialist skills, and while this is certainly a major benefit of platforms such as ThoughtForma, there is another factor key to achieving success in the sphere of digital innovation – ideation.
In a recent article, Forbes highlighted a key flaw in the traditional divide between those who 'have' the ideas and those who 'deliver' on them. 
"…those who use applications cannot communicate with those who build applications, and those who build applications – as the complaints are so often heard – speak another language."
This echoes something we have certainly been (re)discovering within the studio – that we are best able to move forward when we can see our ideas emerge and take shape in front of our eyes. Not all of these ideas turn out to be good, but it's having a 'safe space' in which to experiment with all ideas – good and otherwise – that builds momentum. Safety comes from knowing we can try things quickly, easily, and cost-effectively, and therefore that we can throw things away as well as keep the gems.
Enabling "Citizen Developers"
A citizen developer is anyone engaging or seeking to engage in building applications – irrespective of technical experience or know-how. As such, this is a continuum that embraces everyone from the absolute beginner – with no experience or technical skills at all – through to those who have decades of professional experience working across all aspects of the software development lifecycle.
Being realistic about limitations – what a citizen developer IS NOT (probably)
Depending on where they are on the citizen developer 'continuum', there is a good chance many will lack the specialist knowledge and skills necessary to design and code bespoke apps the traditional way. 
It can be tempting to believe that creating software merely requires some specialist programming knowledge and that by overcoming this requirement – for example, using a graphical app-building tool – provides a magical shortcut to success.
The following checklist presents key aspects of a successful application. The ordering loosely reflects the level of attention and awareness afforded to each aspect – with the better-recognized areas towards the top. 
Application User Interface (UI)

The Content and Data of the application

Application behavior

Infrastructure

Design

Testing

Versioning

Application Security

Data Privacy

Data Management
Many development platforms focus on only a small number of these aspects. Building software is a complex task. Add to this the wider aspects of infrastructure management and governance concerns, and the undertaking seems out of reach of all but the most skilled and experienced software professionals.
ThoughtForma was born from a desire to establish balance and deliver an ecosystem that manages all the key concerns outlined above. The platform is already demonstrating its ability to support the needs of sophisticated applications, all without the need for writing a single line of code anywhere. The next phase is focused on delivering this power in ever more intuitive ways – allowing product teams to self-serve, iterate their ideas, and launch fully-featured applications without reliance on specialist technical expertise.
"Professional-grade technology should be within reach of anyone and everyone who desires to command and shape it to realize their purposeful ideas."
Learn more in this video: