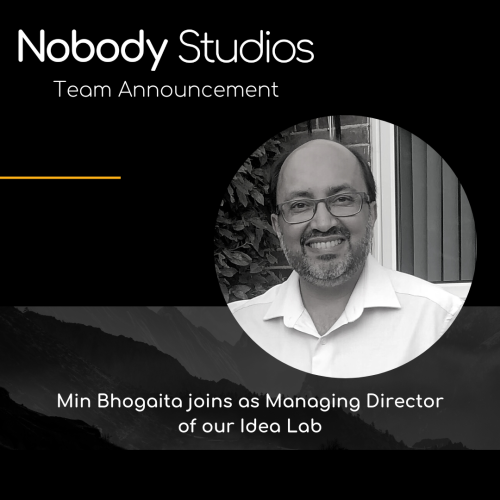 Nobody Studios is honored to welcome Min Bhogaita as the Managing Director of our Idea Lab!
As the former UK Director of the Analytics Lab for Deloitte, Min spent 13 of the past 25 years leading the Forensic Analytics team. During this time, he oversaw workshops for the firm's biggest clients, helping to innovate and showing them the "art of the possible."
More recently, Min has advised a portfolio of 14 technology startups and scale-up companies, and  also teaches a 'Storytelling with Data' course to several influential corporate clients such as Parkdean Resorts and Deloitte.
As Managing Director of our Idea Lab, Min will direct the multitude of ideas coming through the Studio, and spearhead the direction of their formation into the concept phase. He will also define the structure of, and oversee the management of our Crowd -Infused community.
Min recalls his inspiring journey, which led him to Nobody Studios:
"It's time to tell you a story. A story that I've been on for the last few months. A story I've been waiting for my whole life and one I'd like to share with you all.
I love the power of karma, fate, and 'things happen for a reason, just keep doing the right thing,' said the Universe.
So that's what I've been doing over the last few years, meeting hundreds of amazing individuals, and supporting a heap of startups and scale up companies.
Earlier this year, I met a chap on Lunchclub who suggested that he should connect me with a friend of his, based in Canada, who also had a portfolio career as we would have 'lots in common. The Canadian man was fantastic, super knowledgeable, and said he knew an American chap who just so happened to be in the UK for the next couple of years doing something ground-breaking and that he would connect us up.
That somebody was Dr. Erik Reis, who told me that he was a Nobody. He told me about their mission to create a venture studio that is going to use the power of the crowd as well as the best industry titans who are already onboard with the Studio, to create 100 new companies in the next 5 years across sectors as diverse as health and wellbeing to clean energy. Woah!!
It was the meeting and moment I had been waiting my whole life for, and over the last few weeks, I've been meeting the warmest, kindest, and humblest humans from across the world I've had the pleasure to know!
Despite working with the world's biggest companies, and achieving multi-million $ exits, they are all super down to earth individuals who have all left their ego at the door. They are all Nobodies. When I was young, a lot of people told me that I'd be a nobody, so perhaps time travel is a real thing…
So I'm incredibly excited to announce that I've officially joined Nobody Studios as Managing Director of the Idea Lab!
My role will involve taking the tens of thousands of ideas coming through the Studio to decide and grow the ones we think will be disruptors and household names of the future, using the power of the crowd! At some point, we plan to have physical labs to ideate and experiment with new technologies and showcase what we have developed. and yes…anyone who knows me, you can be sure there WILL be lots of robots involved!
One of the things I'm most looking forward to is being part of a family again… a family who wants me to be…well, me! To push me, to keep them honest but most of all, to go on a journey of a lifetime together!
 If you've grown as excited about this story as I have and want to catch up over a hot chocolate to discuss how you might want to join us in our mission, be that in terms of your talent, idea, influence, or something you would like to invest in,  then please do get in touch.
A small Nobody called Min."