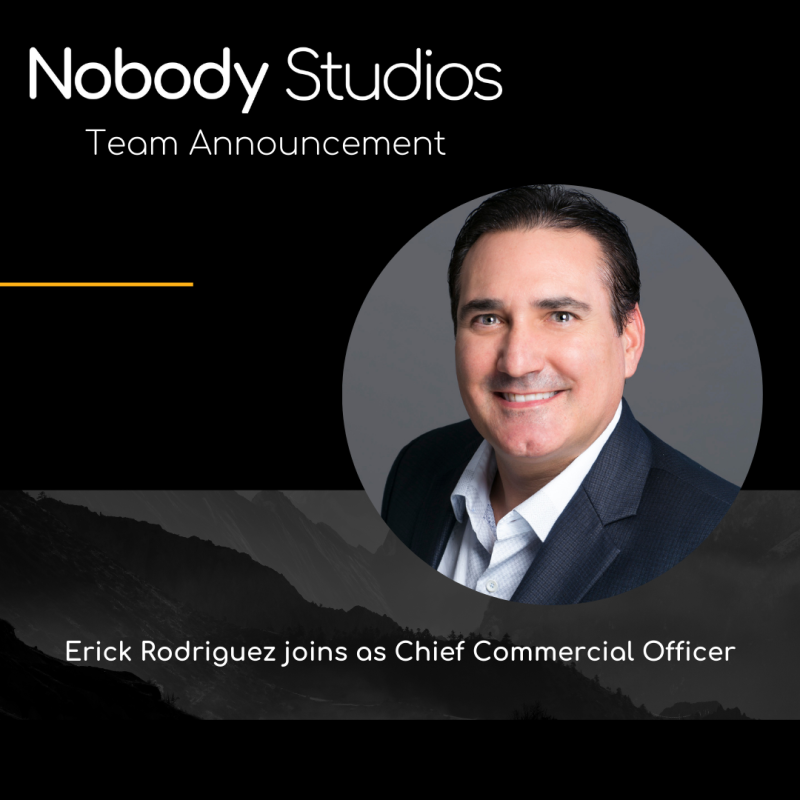 Nobody Studios is honored to announce Erick Rodriguez as our Chief Commercial Officer! As Chief Commercial Officer, Erick is our partnership and business development lead, executive leader for our Advisory Boards, and has a heavy focus on fundraising and capital.
After 25 years of knowing our Chief Nobody, Mark S. McNally, Erick has joined the Nobody Studios team. A relationship filled with both of their own successes and failures, they've come to use their growth from past mistakes as knowledge and fuel for the studio.
Mark reached out to Erick in the early days of the studio, and while Erick was occupied with his own projects at the time, he eventually reached out to Mark and said, "I'm ready. I want to be a Nobody."
"Throughout our journey, we have both achieved successful exits and also endured the pain and suffering of our failures. What's made this decision easier, is that we both learned more from our failures than our successes and we use those learning experiences as fuel to provide the Studio with an amazing amount of wisdom and experience that will help us overcome any challenges and obstacles we will undoubtedly face as we build 100 companies over the next 5 years."
Erick is a valuable addition to the team as he is a well-seasoned businessman and relationship builder. As Chief Commercial Officer, Erick will be focused on helping the company complete its fundraising round, help our portfolio companies prepare for their respective fundraising efforts, identify and develop strategic relationships for the Studio and each of our portfolio companies and finally, lead our Advisory Boards.
"As I look at where the Studio is today, I'm very excited about all the progress that has been made over the last couple of years but I am very excited about the endless possibilities in front of us to create meaningful and impactful companies that we can be proud of.  Companies that can truly make a difference in people's lives on a global scale.  That really gets me excited and out of bed every day!"
Don't hesitate to drop Erick a line if you have questions about becoming an angel investor or a strategic partner with Nobody Studios. (erick@nobodystudios.com)