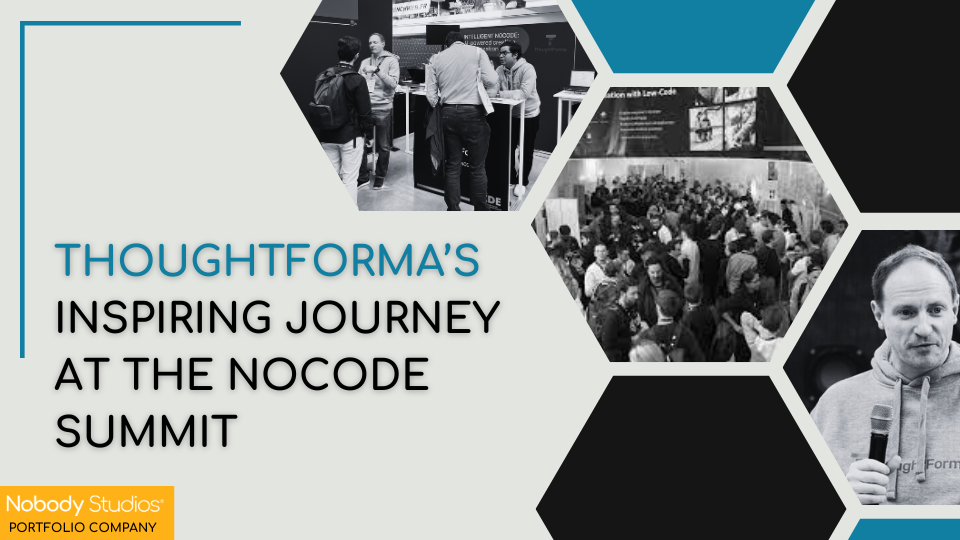 Last week saw us launch our vision to the world at the sector's largest global event, in one of the most forward-thinking and exciting NoCode markets on the planet. We uncovered validation, excitement, and new impetus as we look to capitalize on our momentum.
The NoCode Summit Experience
Held in the heart of Paris, the NoCode Summit isn't just another tech event—it's the global epicenter for all things NoCode. Boasting 60 sponsors and attracting over 2,500 attendees from almost 50 countries, this event was (and is) a melting pot of ideas, innovation, and inspiration.
As Bronze sponsors, ThoughtForma was right in the thick of it and our booth became a stage where we unveiled the magic of Conversational App Building to the world.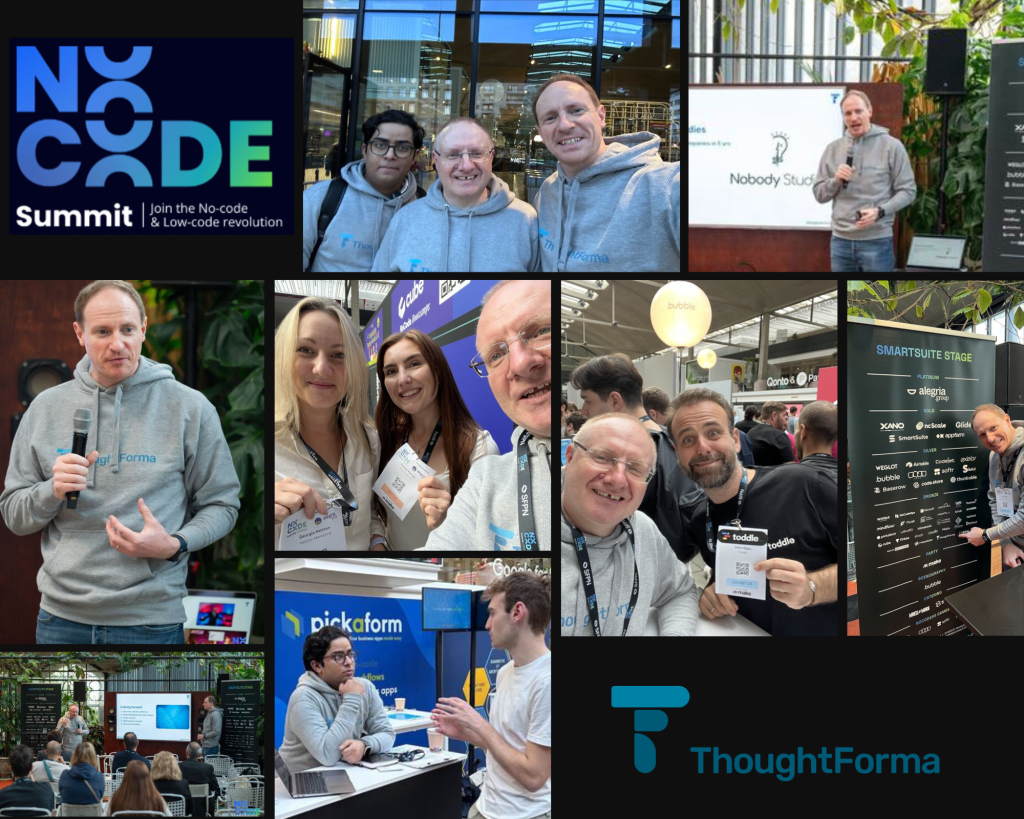 Unleashing Conversational App Building
Imagine constructing digital applications as naturally as conversing with AI chatbots like ChatGPT. Well, that imagination took flight at our booth, drawing in intrigued attendees like moths to a flame. With the evolution of generative AI, what once lived on our vision roadmap now dances before our eyes in real time.
Our live demo was the showstopper. Attendees typed in their whimsical ideas and watched in awe as, within seconds, these concepts morphed into beautifully crafted, conversion-optimized landing pages ready to hit the virtual world.
While fascinating to witness jaws drop at the possibility of bringing their ideas to life at the speed of thought, it was the concept of rapid validation that got attendees talking.
Watch our event video (no audio)
Enter the Era of Live-Cycle Development
Departing from the tedious cycles of traditional software development, we introduced the audience to Live-Cycle Development. It's swift, it's efficient, and it echoes the rhythm of the fast-paced digital world. It's all about getting an idea live as quickly as possible and then validating it with potential users. From here, iterating and finessing begin, based on fast feedback loops. This approach allows for the development of ideas and applications in public, leveraging real-world conditions – resulting in digital products that provide true value to the customer.
The Road Ahead
Though the demo strongly resonated with the crowd (we shipped more than 70 ideas over the two days), our journey has only just begun. Conversational app building is evolving, and we're molding it towards our vision of the future where everyone can bring their ideas to life. Stay tuned and join the waitlist on our website for an exclusive sneak peek into the initial version, designed to turn the art of landing page creation on its head.
The Competitive Landscape
We are not alone in our pursuit of conversational building, it appears other brands are experimenting with the concept too. One such brand, Softr, has developed a conversational wizard of sorts to assist in the user's app-building journey but operates in an entirely different fashion, and the conversational aspect is limited to the initial prompt. 
ThoughtForma's approach permeates the entire process. Users build, iterate, and improve through natural dialogue. We believe this deeper conversational interface will spark more creativity, innovation, and accessibility.
Insights from the Summit
1. Enterprises Are Embracing NoCode
NoCode is maturing beyond startups and moving into the enterprise market. Organizations like PwC and even governments are adopting NoCode to streamline internal processes and apps. This raises topics including compliance, regulations, scalability, and other considerations that were addressed at the summit.
2. Collaboration and Partnerships
The collaborative spirit was palpable – this isn't just competition. There is a sense that NoCode is about cooperating to transform software development, not competing in a "NoCode market", and that collaboration is needed to expand the market share.
3. Developers and NoCode
NoCode is appealing to developers seeking productivity gains and moving past boilerplate coding. They are starting to see the value of adding NoCode tools to their armory.
4. The NoCode Movement is Surging Globally
The NoCode community has a vibrant, open, and collaborative spirit, with attendees excited to exchange knowledge and ideas about the future. It's strong in places like France, India, and the Middle East and there's a clear desire to spread the NoCode reach.
ThoughtForma's Next Steps
Back at ThoughtForma, we're focused on market research and user insights, exploring realms from marketplace apps to customizable AI chatbots. Conversational app building is not just a feature—it's our future. And as we build this future, your insights and ideas are our guiding stars.
Stay connected, and let's unveil the future, one conversation at a time. Sign up on thoughtforma.com and be the first to witness the revolution.
ABOUT THE AUTHOR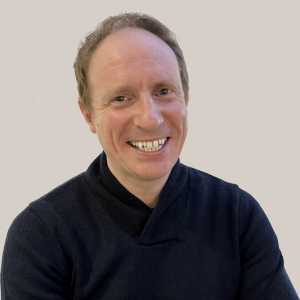 Gareth Edge
CEO and Co-Founder, ThoughtForma
A delivery-focused idea enabler with 20+ years experience in crafting software solutions, Gareth has a proven track record of driving teams to success from initial conception to completion.