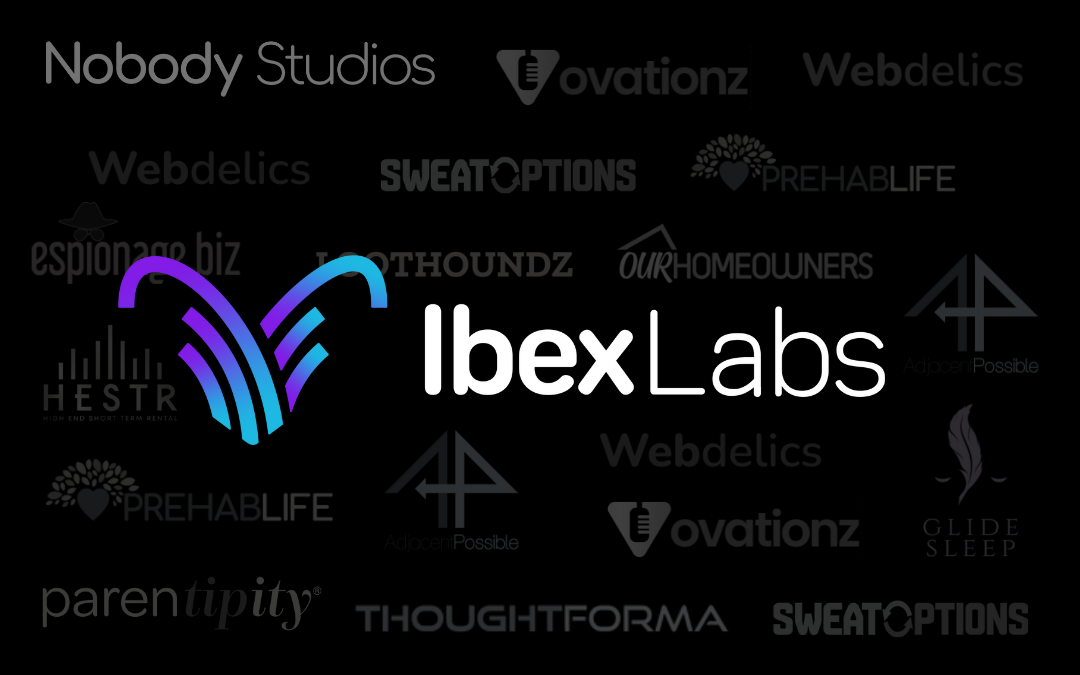 We are elated to announce our first strategic move in the blockchain space by adding the Ibex Labs team to our ranks!
Launched in 2022 by co-founders Zack Pyzer and Jeremy Shankle, Ibex Labs is a platform for creating decentralized applications on the Polygon blockchain.
Ibex Labs will perform a 'building block company' role in Nobody Studios, a term that means a company whose technology, in turn, helps to build other Nobody Studios portfolio companies. We will be deploying the Web3 platform to explore opportunities for building companies at the intersection of blockchain, retail, gaming and hospitality, among others. Before Ibex Labs, two additional building block companies joined our journey: ThoughtForma, an intelligent no-code platform, and The Adjacent Possible, an AI-powered IP creation platform.
Top brands and Fortune 1000 companies worldwide seek to integrate blockchain functionality to bolster mission-critical systems, including payments and loyalty programs. Nobody Studios and Ibex Labs will answer the growing demand for permissionless and decentralized technology, evolving far beyond the utilities of trading crypto and NFTs into practical applications that solve real problems.
In addition to working alongside the Nobody Studios team, Ibex Labs will provide enterprise-scale solutions in compatible fields to established companies looking to explore blockchain-as-a-service tooling.
Nobodies already include current and former top executives from prestigious companies such as Amazon, American Airlines, Facebook, Google, Skype, Stripe, Coca-Cola, and Volkswagen, to name a few. Collaborating directly with Ibex Labs, the Nobody Studios New Media Advisory Board, which includes Ryan Fenwick (CEO, BAVA Media), Dustin Goot (Former Head of Creator Monetization, TikTok), James Creech (CEO of Paladin, acquired by Brandwatch) and Advisory Board Chairman Phil Ranta (former Head of Gaming Creators, North America at Facebook) will provide guidance that will contribute to the ideation and evolution of products evolving from the platform. The partnership is well-positioned to identify a new generation of industry-defining opportunities and bring solutions to market.
"As soon as we began talking to Nobody Studios, we knew we had found the best possible home for our platform," said Zack Pyzer, co-founder and CEO of Ibex Labs. "The greatest partnership that a company-building engine could dream of is to work with a venture studio to quickly find projects that work, and scale them up. We are on the precipice of blockchain becoming a core component across multiple sectors, and together we will be able to take advantage of what is coming."
Our CEO and Chief Nobody Mark McNally comments, "The addition of Ibex Labs is in alignment with our strategy to support all portfolio companies with the best technology this world has to offer. We're thrilled that Ibex Labs will be joining our family of companies, and honored that Nobody Studios continues to attract such quality individuals like Zack and Jeremy." 
Jeremy Shankle, co-founder and CTO of Ibex Labs, explained that his philosophy in building sustainable Web3 companies aligned with our story: "In the long crypto and NFT bull markets, everyone was leaning into speculative trading and tokenization as a panacea in place of a business model. We want to generate companies that use blockchain as a value add, rather than as a way to segue trading into everyday products and experiences. That approach aligned with Nobody Studios' values right from the first call."
As a venture studio headquartered in Los Angeles, and with global teams based in New York, London, Tel Aviv, and Manila, we are an already distributed operation that is well placed to integrate the Ibex Labs founders, who are split between Tel Aviv and Berlin, two of the world's hotspots for blockchain innovation.
We recently partnered with Republic, a leading private investment platform, to implement our "Crowd Infused" approach to venture investing by being one of the first venture studios to offer equity crowdfunding and make early-stage company ownership accessible to all. Our campaign is off to a great start, raising more than $500k in addition to previously raised capital.
"To accomplish our goal of 100 companies in five years (and many more in the following years), we'll need a tremendous amount of talent, influence, and capital, and we want to give everyone the opportunity to be part of it," said Tiffany Hansen, our Vice President of Operations at Nobody Studios.
ABOUT IBEX LABS
Ibex Labs is an enterprise-scale, no-code Web3 platform built to create decentralized applications on the Polygon blockchain, focusing on sectors such as retail, media, gaming and hospitality.
In addition to working with external clients to develop enterprise-scale tools fit for the Web3 economy, the Ibex Labs team will be working with Nobody Studios to incubate and launch blockchain-powered Studio companies.